For those of you know me, you'll know I'm thrifty. And while
thrifty
has gained some negative meaning over the years, I'm gonna stick with good ole'
Merriam-Webster's
version:
Full Definition of THRIFTY
3
:
given to or marked by economy and good management
— thrift·i·ly adverb
Pokemon hat "Gotta catch em all!"
Sold at SA for $1
(Retails for... priceless)
— thrift·i·ness noun
My "thrifty-ness" has gotten me farther than many people realize. For one, I moved to California with a mere $300 in my pocket, found a job, place to live, and even paid for my own groceries, thanks to being as thrifty as ever. (Thank you
Grocery Outlet Bargain Market
). I am an avid coupon collector in every sense of the word. And we're not talking your mother's coupon cutting at the kitchen counter (although I still get monthly PennySavers and RedPlum coupon books) If there's a bargain site, you bet I subscribe. If there is a deal going on, I'm probably the person tweeting about it.
But my obsession goes slightly beyond deals and discounts, it's about getting the most bang for your buck, especially when it comes to fashion. Since I was a little girl I have been fascinated with thirft stores. I had my regular haunts in Boston at
The Garment District
and serial thrifted in neighborhoods like Earls Court and Brick Lane in London, where strings of 'Charity Shops' lined up one after the other. And like every thrift-er, I recycle the gift of thrift using things like
eBay
. I quickly learned I could use eBay to recycle these finds, and in return the sales actually paid for themselves and more.
Here in San Diego, I have my regular haunt. The
Salvation Army
has stores across the nation, but their
downtown San Diego Location
is also one of the largest donation facilities in southern California. What's more is (like most thrift stores) they have daily specials. For example on Tuesdays all furniture may be 40% off, or on Thursdays anything older than 30 days may be 75% off. But the best sale of all runs every Friday and Saturday, where visitors can get 50% off everything in store. I have literally outfitted my entire apartment with furniture, kitchen wares, linens, and of course stocked my closet by visiting the store on a 50% off day. Each time I make the trip I keep a few things in mind; tips that I will pass along to you (for survival of course):
Go with an item in mind.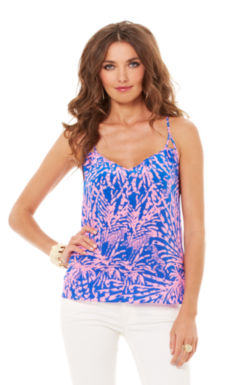 100% Silk tank top
Brand: Lilly Pulitzer
Bought at SA for $2.50
(Retails $108)
Keep in mind these stores are big and they'll take some digging. So if you're not prepared to get a little dirty then don't bother. That being said, go with something in mind. When I'm "browsing" (a.k.a. on my hands and knees dripping with sweaty digging through racks) I am on the look out for things that will sell on eBay. I look at color, trending fashions, brand name, and size. I found a lovely silk tank top from
Lilly Pulizter
, and while it's not something I would ever wear (no offence to entire East Coast) it retails at $108. Oh and did I mention it's this season?
If you get stuck on an item that you want to sell, break out the eBay app and do a quick search to see how much your item is worth. And if you're not looking to sell on eBay, just think, you're going to look like $100 bucks pretty soon without breaking the bank!
But remember to keep an open mind too.
I used to have an eBay rule: Don't sell something you, yourself wouldn't buy. My last Lilly Pulitzer example just proves sometimes you gotta break the rules and keep an open mind when looking at brands and trends. Just because you'd never wear it, doesn't mean it won't sell!
Price will always be a factor.
Okay okay, I'll be the first to admit that sometimes even thrift stores can be expensive. We all have different ideas of what is cheap and what isn't. But sometimes you gotta spring for the extra buck. If you're shopping for yourself, basic neutrals, whites and blacks are gonna be the things that you keep next spring cleaning season. And if you're shopping for eBay, you'll soon figure out somethings are just not worth it! I rarely pay over $5.00 for anything unless I absolutely LOVE it or know it will sell for a higher price.
It's all about the feels!
So you're tired. You've been digging through racks and you just kind of want to give up right? Shut your eyes and run your hand over the rack of clothing. What do you feel? I have found some of my favorite tee shirts this way. I'm all about soft cottons, none of that starchy itchy stuff thank you. Talk about being "one with" the fabric eh?
And the brand.

Brand: Lululemon
Sold at SA for $4
(Retails $140)
When eBaying Brand is key. I can't stress that enough! For example. I recently found a
Lululemon
jacket in a size 6 (one of the most coveted sizes on eBay). I thought long and hard about whether to sell it or keep it. But remember I'm thrifty, so of course I listed it on eBay at a starting auction of 99 cents. About an hour later, my inbox was full of messages about the jacket, buyers wanted more details, more photos, they wanted me to put it up for a "buy it now option". One buyer offered me $100 when the auction was only at $38. The auction ended 7 days later with a final bid of $97.
Just remember to always have fun with it!
Suede shoes with leather strap.
Brand: Fergalicious by Fergie
Sold at SA for $7
(Retails $60)
I came across these blue suede babies and thought they were ridiculous. They're by Fergie's Fergalicious brand (who knew) and were priced at $7. They just happened to be my size so I stepped into them and
Voila!
They're actually really
not that
bad. That's the thing about Thrifting, you've got to have fun with it and be willing to try something on, even if you think it's going to look ridiculous. You might just find you new blue suede shoes that you didn't even know you were looking for.